It is Sunday, July 21st, 2019 and the place to be on this 80 degree, partly overcast Sunday morning is not in a Sunday school class but on a corner with other individuals doing what Jesus did. This group of individuals has no tracts or Bibles. Instead, they possess the hope of the gospel, an Ask Me Why I'm Not In Church shirt and knowledge of how to participate in the redemption of individuals, families and communities. This is not a 'one and done' Sunday outing but rather, this group is intent on having an ongoing presence on this and other corners throughout the summer. They will seek to improve the conditions around them, whether that means sweeping up trash, engaging business owners, praying with and offering services and hope to young teen moms or empathizing with returning citizens who might be considering giving up.
On this particular morning the team listens to a woman named Rita who is hungry, dirty and carrying all her earthly possessions in a laundry bag. The team does more than pray, they invite her back to church where she eats a meal, takes a shower, is given clothes and eventually driven to a shelter. She sits in worship feeling welcomed. She is loved!
The team of Christ followers are convinced that these kinds of interactions will not happen if things remained the same. The request on the shirt puts the wearer on the offensive. It's a kind of invitation and demand all rolled up in one statement. The teams are not made up of Biblical scholars, but instead they consist of people who have been made whole by the gospel that they are taking to the streets. They are fully convinced that Jesus can heal the brokenness that shows up on these very corners.
When we look at the state of the church in North America we are faced with an urgent question, "What if we continue on with business as usual?" The questions begs for a truthful assessment of who we've become and where we are going. A clear look in the mirror reveals a number of things we must face as a church in North America. For example, most of what we might call church growth  is not due to conversions, but  actually can be attributed to transfer growth or the result of families growing in numbers.  Currently, the disciples of Jesus seem to have more in common with museum curators whose priority is to preserve the past.  In many of the places where we exist our neighbors identify us as those that take up parking spaces rather than those who improve the block.
In the book, Ask Me Why I'm Not In Church: A Call For The Church To Get Outside The Building, Dr. Anderson and I seek to challenge the apathy of continuing on as if nothing is wrong. We are in need of a missional revival. We understand that this missional revival will take place because God awakens His people. In this book we set out to describe the journey that God took us on as a church; a journey from a place of comfort to a place of calling. We realized as a church that we were redeemed to be full time missionaries and that our move from a quiet suburb to the city resembled the missional move of Jesus as John describes in John 1:14, "The Word became flesh and made his dwelling among us. We have seen his glory, the glory of the one and only Son, who came from the Father, full of grace and truth." (NIV)
 As practitioners we set out to share our hearts in hopes that it would spark something within churches to reach beyond the culture of comfort. This book is much more than an account of the history of one church; it is a gift to the church at large. Our desire is to spark a movement. Our love for the bride of Christ has been motivation to push the church beyond the walls into our communities, marketplaces and jobs.  When we observe the life of Jesus we find Him at the community wells, at weddings, at various places of work, at funerals and many other places all in an effort to tell of the hope of the kingdom of God. The central focus of many of our churches is on the sermon and/or the public worship service. The public presentations receives the majority of our resources and energy and we miss how Jesus Christ invested in the discipleship of others and the transformation of lives. It is hard to give the world around us our presence when we are preoccupied with the Sunday morning presentation.
Ask Me Why I'm Not In Church comes at the excuses and malaise that is embraced and instead gives a way forward for any church, anywhere. You can exist in a rural, urban or suburban context and there will be the assumption that on Sunday morning Christians should only be preparing to go indoors. These rigid assumptions must be destroyed. Why can't we have both? Our desire is not to beat up, but to break the mold of church as usual. We must go beyond believing that change consists in simply doing casual attire or utilizing contemporary music. There is a world out there that we are not prepared to engage or serve. Our journey as a church challenged us to engage the 'leper' of our day not because its sexy, but because our Savior engaged the leper and redeemed them for His glory.
After reading this book, we hope the reader walks away with some clear steps that they can take to engage the world around them. This will require a church taking a deep look at themselves and learn who they are, and how that will impact how they fulfill the mission in the place where God has placed them. We also challenge a church to get to know their neighborhood and that will also require some work. The answer to these two questions will shape how a church engages their context. We want churches everywhere to do contextualized ministry and to stop trying to mimic mega churches. There is something deeply liberating about being able to know yourself and your context and to serve your community without looking over your shoulder at the folks across town. Our invitation is to move towards incarnational ministry that understands that we serve alongside King Jesus. He will build His church, He will bring about the increase as we plant and water.
Dr. Anderson and I have poured out onto these pages our passion for Jesus and His Holy Word. We have taken special care to highlight often missed applications of God's word to life within a community that struggles under the impact of oppression. The marginalized are among us and we can easily dismiss how God loves them and tells their story. We decided to make their stories a very prominent part of this book in hopes of waking up the church to the need to love them. We've tried to be as practical as possible, and for many we've introduced some new concepts. Our prayer is that you would experience an 'ah-ha' moment and follow Jesus into the world on mission; whether you are a person in leadership or a person in the pew  (John 20:21).
Dr. Anderson and I have learned the particulars of missional theology at Missio Seminary. This experience coupled with our life's work at Great Commission Church has produced the practical expression of the missional paradigm. This book captures the essence of who we have become as followers of Jesus. We are passionate about our community and grounded in the hope of seeing the kingdom reality in neighborhoods as it is in heaven.
We are following up on the release of Ask Me Why I'm Not In Church with a manual this coming fall to help train leaders to structure and run this program within churches in various contexts. We understand that some may want to go deeper and so we have a 'train the trainer' workshop on Saturday, October 12th at Great Commission Church from 9:00 AM til 1:00 PM. For more information on the book and upcoming trainings you can reach out to us via email askmewhychurch@gmail.com or askmewhychurch.com. We are have a Facebook Ask Me Why I'm Not In Church group.
---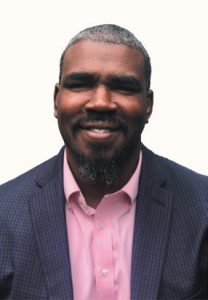 Dr. Kyle Canty was born and raised in North Philadelphia and now resides in the West Oak Lane section of the city. The Lord has blessed him with a wonderful wife of 19years, Pam, and three beautiful children,. Dr. Canty is a graduate of Cairn University (Formerly Philadelphia Biblical University) with a Bachelor's of Science in Pre-Seminary/Bible. He also has a Master's of Science Degree in Christian Counseling from Cairn University. He also holds a Master of Divinity (Urban Missional Leadership) and a Doctorate of Ministry (Urban Missiology) degree from Missio Seminary (formerly Biblical Theological Seminary). He currently works for the North American Mission Board as the SEND City Missionary/Church Plant Catalyst for the City of Philadelphia. He has been the assistant pastors of Great Commission Church for 15 years.
All author posts