GRACIOUS HOSPITALITY:
Welcoming My New Neighbor
To understand the history, culture, current context, and how Christians can be neighbors of the Afghan refugees.
This event was held on November 11, 2021
EVENT SCHEDULE:
o Welcome & Intro of Host
o Greetings & Intro of 3 Guests
o Dr. Patrick Krayer
o Ms. Katherine Obenschain
o Dr. Heather Evans
o Q & A (10 minutes)
o Final comments from guests
---
Our Guest Speakers
About Our Guest Speakers
Dr. Patrick Krayer worked with non-government organizations providing humanitarian assistance to the Afghan refugees in Peshawar, Pakistan from 1984 to 2002. From 2002 to 2012, he worked in Kabul, Afghanistan serving Afghans in humanitarian and capacity building efforts. From 2013 to 2021 he was the executive director of the US office of a faith-based international humanitarian relief and development organization. He currently is an adjunct faculty at Dallas International University.
Katherine Obenschain, MSW, LSW is a licensed social worker with experience in working with vulnerable populations. She currently works as a STOP Intimate Partner Violence Specialist at Lutheran Settlement House as part of the STOP IPV Program partnership with Children's Hospital of Philadelphia (CHOP). Her work is focused on providing counseling and advocacy for survivors of intimate partner violence and teen dating violence. In addition, she supports CHOP clinicians through trainings, case consultations, and policy advocacy.
Prior to this work, Katherine served as the pro bono administrator for Duane Morris LLP where she coordinated the pro bono legal service program. She provided legal and emotional support for immigrant and domestic survivors of intimate partner violence, commercial sexual exploitation, human trafficking, refugees and asylum seekers. Until she was 17, she was raised in Kabul, Afghanistan by parents who were aid workers, and has a special affinity for refugees and immigrants.
Dr. Heather Evans is a Licensed Clinical Social Worker and Director of Evans Counseling Services LLC, a private group counseling practice in Coopersburg, Pennsylvania. She has over 20 years of clinical experience, with a specialization in women's issues, particularly sexual trauma, sex trafficking, and aftercare of its victims. Heather received a Doctor of Clinical Social Work degree from the University of Pennsylvania and her dissertation highlighted complex trauma and post-traumatic growth in victims of domestic sex trafficking. Heather is Co-founder of VAST (Valley Against Sex Trafficking) Coalition in the Lehigh Valley, PA. She is devoted to training and equipping service providers. In 2013, Heather received the Allied Professional Award from Crime Victims Council of the Lehigh Valley for outstanding commitment to victims' services. Heather is an Adjunct Professor of Global Trauma Recovery Institute of Missio Theological Seminary and travels and leads trips nationally and internationally, with the goal of partnering with and training trauma healing caregivers.
Heather is the author of two books on complex trauma and posttraumatic growth in sex trafficking survivors and the creator of the Voices of Survivors Project.
About Our Host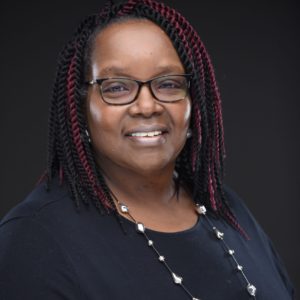 Rev. Valerie Andrews is the Program Director of PULPIT (Program for Urban Leaders and Pastors in Transition), a life-changing program at Missio Seminary that equips pastors in the Philadelphia metro region with effective strategies to thrive personally and professionally.
In 2005, Rev. Val was ordained by the Philadelphia Eastern Keystone Baptist Association, and began her studies at the Palmer Theological Seminary, graduating in 2008 with a Master's in Divinity. She served as an intern at The Church of the Redeemer Baptist, and in 2007, she joined this body of believers, serving on staff as Business Manager until 2016. In this role, she managed the day-to-day operations of the church under the leadership of the Rev. Dr. Wayne E. Croft, Sr. and the Rev. Omari Hughes. Presently, she is the Executive Administrative Assistant to Dr. Damone B. Jones, Sr., Pastor of the Bible Way Baptist Church.
In 2013, Rev. Val was the recipient of the one of One-Hundred Four Influential Black Women Leaders by the NAACP's Philadelphia Chapter. She has been actively engaged in church ministries including president of the Women's Division of the Pennsylvania Eastern Keystone Baptist Association, member of the Philadelphia Baptist Minister's Council, executive board member and events coordinator for the American Baptist Women's Ministries, and presently serves on the United Theological Institute's Committee of Advisors, of the United Lutheran Seminary. Rev. Val is exceptionally gifted in managing church operations and highly skilled in training church leadership. In 2015, she began serving as an instructor at United Lutheran Seminary for its Urban Theological Institute Certificate Program and she teaches Servant Leadership, Church Administration and Managing Church Conflict at the St. Paul's Baptist Church's satellite campus of West Chester, PA. Rev. Val is an Associate Minister at the St. Paul's Baptist Church of West Chester, PA under Dr. Wayne E. Croft, Sr. Reverend Valerie Andrews is now being elevated as Pastor-Elect of the Eternal Life Missionary Baptist Church, a Liberian Baptist congregation in Southwest Philadelphia.
Additional Resources
For an introduction to how to represent Jesus meaningfully through their relationship with Afghans, email Terri Taylor at: ttaylor@ludlow.net and ask for an electronic copy of the booklet: Doing Life Together.

For those who want to explore more about how to meaningfully and sensitively represent Jesus to Afghans in particular, and Muslims in general, please listen to the podcasts at https://globalhearted.com/
To gain a deeper understanding of a very significant aspect of Afghan/Pashtun cultures, read: My Mother's Sons: Managing Sexuality in Islamic and Christian Communities
To learn about a trauma healing program using Healing Wounds of Trauma by Harriet Hill, Margaret Hill, Richard Bagge', Pat Miersma https://traumahealinginstitute.org/
Suffering and the Heart of God:  How Trauma Destroys and Christ Restores by Diane Langberg articles: